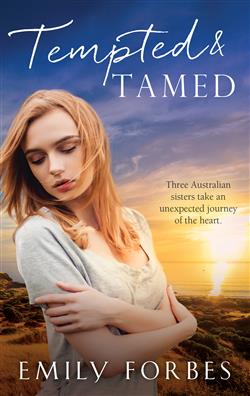 Three Australian sisters take an unexpected journey of the heart.
A Doctor By Day...
By day, medical intern Jake is a hotshot doctor, committed to saving his patients. But, to pay for med school, by night he transforms into red-hot stripper Judge Jake!
Growing up with a dysfunctional family, Dr Scarlett Anderson became the 'dependable one'. Yet, after a messy break-up, sensible Scarlett decides to let loose for one night of passion with sinfully sexy Jake! Their chemistry is intense, but Scarlett is stunned when she learns Jake is her new colleague…and that their one night has consequences!
Tamed By The Renegade
Caring nurse Ruby Anderson has always been a free spirit. After a rocky childhood, her instinct might be to flee when things get tough, but with her baby sister desperately ill this is the one time Ruby can't run away…
Offered a job as private nurse for deliciously hot racing car driver Noah Christiansen, Ruby knows he'll be the perfect distraction! But as Noah breaks down Ruby's hard-earned barriers she's faced with the ultimate decision: flight or fight for the only man to tame her?
A Mother To Make A Family
When Dr Mitch Reynolds lost his wife, he blamed himself and turned his back on medicine. He keeps his three children close but the world at a distance. Then Rose Anderson walks into his life…
Rose has always dreamed of falling in love, but an illness has left her scarred and now her dreams feel further away than ever. Yet helping Mitch's little family become whole again gives her the chance to belong and the prospect of being loved…just as she is.